Vinna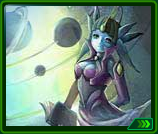 Skills:

Cunning
| | |
| --- | --- |
| | 150 |
Vinna is widely recognized as a prodigy and was one of the youngest students ever to attend Galaxy College. She completed her studies in record time and rose through the ranks to become a fleet commander. Her outstanding performance earned her the opportunity to command one of the best fleets in the galaxy. She uses every bit of experience gained in battle to her advantage, turning knowledge into power that provides a boost to combat effectiveness.
Cunning

Reduces level-up requirements by 30%. Also has a chance to increase one stat by 10 when an attack connects. This effect lasts until the end of combat. Affected by the Dodge attribute.
Commander's Chance to Trigger Ability
Edit
Note: The initial chance is the chance to trigger their ability when the total number of the related stats is 0. As the related stats increase, the chance to trigger commander ability will increase too. Click on the link to see a list and explanation of all Commander's Chance to Trigger Abilities.
The table shows the chance based on 500, 1000, 1500 and 1800 related stats.
Name
Type
Initial Chance
Dodge
500
1000
1200
1500
1800
Vinna
Skill
8%
21%
58%
78.87%
116%
161.12%