Stani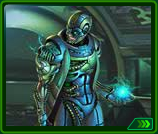 Skills:

Interference
| | |
| --- | --- |
| | 600 |
Some say Stani is a man. Others say he is a monster. Regardless of the rumors and his appearance, his close friends know him as a battle-hardened commander with vast knowledge of electronic inpulses and circuitry technology. He often uses electronic interference to jam enemy communications and signals, effectively crippling them before he moves in for the kill.
Interference

Has a chance to prevent the enemy from moving and attacking for the next round. Affected by the Accuracy and Electron attributes.
Commander's Chance to Trigger Ability
Edit
Note: The initial chance is the chance to trigger their ability when the total number of the related stats is 0. As the related stats increase, the chance to trigger commander ability will increase too. Click on the link to see a list and explanation of all Commander's Chance to Trigger Abilities.
The table shows the chance based on 500, 1000, 1500 and 1800 related stats.
Name
Type
Initial Chance
Accuracy and Electron Stats
500
1000
1200
1500
1800
Stani
Legendary
10%
16%
35%
46%
66%
91%
Divine Commander
Edit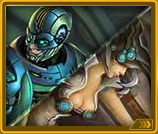 This Commander can be combined with other commanders to form a
Divine Commander
. The Combined Commander becomes a Divine Commander with special abilities. The following is a list of Divine Commanders that can be created with this Commander:
Related Events
Edit