Raylif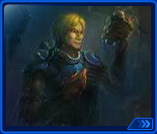 Skills:

Armor Repair
| | |
| --- | --- |
| | 150 |
Definitely one of the coolest commanders in the galaxy, Rayllf was born to be a professional soldier. He commands his fleet with great skill and is a brilliant tactician, planning battle maneuvers and predicting enemy movements with pinpoint accuracy. He believes a strong defense leads to greater offense and often manipulates his enemies into making the wrong moves, thus gaining tactical defenses against their fleets.
Armor Repair

Has a chance to increase ship defense by 5 per round. This effect lasts for 1 round. Affected by the Speed attribute.
Commander's Chance to Trigger Ability
Edit
Note: The initial chance is the chance to trigger their ability when the total number of the related stats is 0. As the related stats increase, the chance to trigger commander ability will increase too. Click on the link to see a list and explanation of all Commander's Chance to Trigger Abilities.
The table shows the chance based on 500, 1000, 1500 and 1800 related stats.
Name
Type
Initial Chance
Speed
500
1000
1200
1500
1800
Rayllf
Skill
25%
38%
75%
95.87%
133%
178.12%