Nora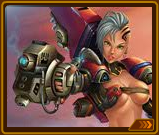 Skills:

Massacre
| | |
| --- | --- |
| | 600 |
It is said that Nora possesses a frightening ability derived from her panicky nature, resulting in pure destruction. It started with a pirate raid on Nora's fleet. Surrounded and heavily outnumbered, she launched a rapid wave of missiles, a surprising move that saved the fleet from total annihilation. After that incident, Nora honed this skill and now frequently uses it to get out of jams. To the pirates, crossing paths with Nora is like facing death incarnate, instilling indescribable horror among their ranks.
Massacre
Note: Despite the skill's in-game description, Massacre is triggered when Nora attacks, not when enemies attack Nora.
Commander's Chance to Trigger Ability
Edit
Note: The initial chance is the chance to trigger their ability when the total number of the related stats is 0. As the related stats increase, the chance to trigger commander ability will increase too. Click on the link to see a list and explanation of all Commander's Chance to Trigger Abilities.
The table shows the chance based on 500, 1000, 1500 and 1800 related stats.
Name
Type
Initial Chance
Accuracy and Dodge Stats
500
1000
1200
1500
1800
Nora
Legendary
10%
13%
20%
23.79%
31%
39.20%
Related Events
Edit
Divine Commander
Edit

This Commander can be combined with other commanders to form a
Divine Commander
. The Combined Commander becomes a Divine Commander with special abilities. The following is a list of Divine Commanders that can be created with this Commander: