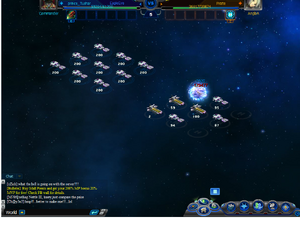 About Meat Shield
Edit
Meat shields are ships with maximum defense and no offence. They are better than empty space but not by much. Like empty space, it costs a firing position. At least, it will absorb attacking energy. This is the only improvement over empty space.
According to many, this is a deprecated design and not recommended for new fleet builds and deployments. Tanks are a more practical alternative.
Meatshield usage

| | | |
| --- | --- | --- |
| M | M | M |
| X | X | X |
| X | X | X |
M = Meat shields
X = This would be any of your old ships that you can stack
Pro & Con
Edit
The main disadvantage of the Meatshield is the complete loss of firepower in the first rank. It is an entirely realistic scenario to loose all your ships except the meat shields, leaving you with a useless remaining fleet. This is why many deprecate this design type in favor of Tanks.
Where Used
Edit