Indomitable Duo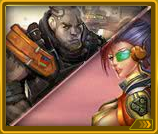 Skills:

Divine Barrier
| | |
| --- | --- |
| | 600 |
This commander is a combination of Andrew and Heloyce.
How to Obtain
Edit
This Scroll is released in Aquarius.A01 in the Constellations. This commander can also be created with the Indomitable Duo Scroll.

Divine Barrier

If Indomitable Duo's Dodge rating is higher than the enemy commander's Accuracy rating, scattering damage and formation penalty is ignored while under attack. Also increases fleet stability.
Affected by Dodge stat.
Commander's Chance to Trigger Ability
Edit
Note: The initial chance is the chance to trigger their ability when the total number of the related stats is 0. As the related stats increase, the chance to trigger commander ability will increase too. Click on the link to see a list and explanation of all Commander's Chance to Trigger Abilities.
The table shows the chance based on 500, 1000, 1500 and 1800 related stats.
Name
Type
Initial Chance
Dodge Stats
500
1000
1200
1500
1800
Indomitable Duo
Divine
--
--
--
--
--
--
Player use
Edit
Before Ererbus Errants came out, Indomitable Duo (in short, Indom or IDuo) was seen as the most valuable non-Rayo-based tank commander because of its dependence solely on the Dodge attribute. As a plus, Indoms cancel out the bonus scattering damage of Conquistador and Sandora or its associated divines provided that the Indom's dodge is higher than the accuracy of its opposing commander.
This tank commander can be broken by Eternal Terrors, Desolate Prayers, Eschaton Adventists, Hand of Lelantos, or any other commander than can outstat it.