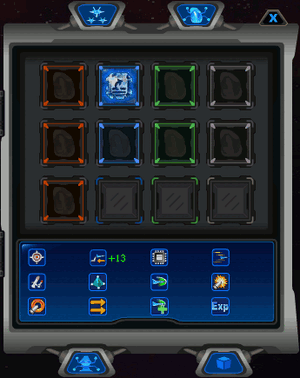 Gems are used to increase the statistics of your commander. They can only be applied in certain slots, stated in their description. Depending on its description, it can increase various attributes of the commander. As a commander levels up, more slots are opened for more gems. As it takes four raw gemstones to form a level 1 gem, it takes four of a specific gem (type and level have to match)  to merge into the next level gem. For example, four Accuracy Ruby-I gems can be merged into one Accuracy Ruby-II gem.
Commanders can have a maximum of 12 gems embedded; three rubies, three sapphires, three emeralds and three diamonds. Diamond slots can accept any gem colour, meaning that a commander can have a maximum limit of 6 of any particular colour gem. A commander with full gems is truly outrageous.
At level 1, a commander has a single gem slot unlocked (a red one). At commander levels 2, 3 and 4, blue, green and diamond slots unlock. The next row of unlocks happens at levels 6, 8, 10 and 12, while the third row of unlocks happens at levels 15, 18, 21 and 24.
| | Name | Description | Level | Color | Lvl 1 Gems |
| --- | --- | --- | --- | --- | --- |
| | Raw Gemstones | Required for gem-merging. 4 Raw Gemstones will merge into 1 Gem. | 1 | Other | N/A |
| | Unknown Gem | Get a Level 1 gem at random" | 1 | Other | N/A |
| | Accuracy Ruby-I | Increases a Commander's accuracy by 13. | 1 | Ruby | 1 |
| | Accuracy Ruby-II | Increases a Commander's accuracy by 26. | 2 | Ruby | 4 |
| | Accuracy Ruby-III | Increases a Commander's accuracy by 39. | 3 | Ruby | 16 |
| | Accuracy Ruby-IV | Increases a Commander's accuracy by 52. | 4 | Ruby | 64 |
| | Accuracy Ruby-V | Increases a Commander's accuracy by 65. | 5 | Ruby | 256 |
| | Accuracy Sapphire-I | Increases a Commander's accuracy by 9. | 1 | Sapphire | 1 |
| | Accuracy Sapphire-II | Increases a Commander's accuracy by 18. | 2 | Sapphire | 4 |
| | Accuracy Sapphire-III | Increases a Commander's accuracy by 27. | 3 | Sapphire | 16 |
| | Accuracy Sapphire-IV | Increases a Commander's accuracy by 36. | 4 | Sapphire | 64 |
| | Accuracy Sapphire-V | Increases a Commander's accuracy by 45. | 5 | Sapphire | 256 |
| | Accuracy Emerald-I | Increases a Commander's accuracy by 5. | 1 | Emerald | 1 |
| | Accuracy Emerald-II | Increases a Commander's accuracy by 10. | 2 | Emerald | 4 |
| | Accuracy Emerald-III | Increases a Commander's accuracy by 15. | 3 | Emerald | 16 |
| | Accuracy Emerald-IV | Increases a Commander's accuracy by 20. | 4 | Emerald | 64 |
| | Accuracy Emerald-V | Increases a Commander's accuracy by 25. | 5 | Emerald | 256 |
| | Giant Triad-I | Increases Critical Strike rate by 0.7%, Critical Strike damage by 2.2%, and Double Attack rate by 0.9%. Can be merged from Ferocity Gem-I, Malice Gem-I, and a Chrono Gem-I. | 1 | Emerald | 3 |
| | Quadra Accuracy | Increases Accuracy by 5, Critical Strike rate by 0.7%, Critical Strike damage by 2.2%, and Double Attack rate by 0.9%. Can be merged from a Giant Triad and Accuracy Emerald. | 1 | Emerald | 4 |
| | Dodge Ruby-I | Increases a Commander's dodge by 5. | 1 | Ruby | 1 |
| | Dodge Ruby-II | Increases a Commander's dodge by 10. | 2 | Ruby | 4 |
| | Dodge Ruby-III | Increases a Commander's dodge by 15. | 3 | Ruby | 16 |
| | Dodge Ruby-IV | Increases a Commander's dodge by 20. | 4 | Ruby | 64 |
| | Dodge Ruby-V | Increases a Commander's dodge by 25. | 5 | Ruby | 256 |
| | Quadra Dodge Ruby-I | Increase a Commander's dodge by 5, attack power by 0.7%, double attack rate by 0.9%, and structure by 0.4%. | 1 | Ruby |  ? |
| | Dodge Sapphire-I | Increases a Commander's dodge by 13. | 1 | Sapphire | 1 |
| | Dodge Sapphire-II | Increases a Commander's dodge by 26. | 2 | Sapphire | 4 |
| | Dodge Sapphire-III | Increases a Commander's dodge by 39. | 3 | Sapphire | 16 |
| | Dodge Sapphire-IV | Increases a Commander's dodge by 52. | 4 | Sapphire | 64 |
| | Dodge Sapphire-V | Increases a Commander's dodge by 65. | 5 | Sapphire | 256 |
| | Dodge Emerald-I | Increases a Commander's dodge by 9. | 1 | Emerald | 1 |
| | Dodge Emerald-II | Increases a Commander's dodge by 18. | 2 | Emerald | 4 |
| | Dodge Emerald-III | Increases a Commander's dodge by 27. | 3 | Emerald | 16 |
| | Dodge Emerald-IV | Increases a Commander's dodge by 36. | 4 | Emerald | 64 |
| | Dodge Emerald-V | Increases a Commander's dodge by 45. | 5 | Emerald | 256 |
| | Electron Ruby-I | Increases a Commander's electron by 9. | 1 | Ruby | 1 |
| | Electron Ruby-II | Increases a Commander's electron by 18. | 2 | Ruby | 4 |
| | Electron Ruby-III | Increases a Commander's electron by 27. | 3 | Ruby | 16 |
| | Electron Ruby-IV | Increases a Commander's electron by 36. | 4 | Ruby | 64 |
| | Electron Ruby-V | Increases a Commander's electron by 45. | 5 | Ruby | 256 |
| | Electron Sapphire-I | Increases a Commander's electron by 5. | 1 | Sapphire | 1 |
| | Electron Sapphire-II | Increases a Commander's electron by 10. | 2 | Sapphire | 4 |
| | Electron Sapphire-III | Increases a Commander's electron by 15. | 3 | Sapphire | 16 |
| | Electron Sapphire-IV | Increases a Commander's electron by 20. | 4 | Sapphire | 64 |
| | Electron Sapphire-V | Increases a Commander's electron by 25. | 5 | Sapphire | 256 |
| | Electron Emerald-I | Increases a Commander's electron by 13. | 1 | Emerald | 1 |
| | Electron Emerald-II | Increases a Commander's electron by 26. | 2 | Emerald | 4 |
| | Electron Emerald-III | Increases a Commander's electron by 39. | 3 | Emerald | 16 |
| | Electron Emerald-IV | Increases a Commander's electron by 52. | 4 | Emerald | 64 |
| | Electron Emerald-V | Increases a Commander's electron by 65. | 5 | Emerald | 256 |
| | Quadra Electron Emerald-I | Increase a Commander's electron by 13, critical strike rate by 0.7%, critical strike damage by 2.2%, and double attack rate by 0.9%. | 1 | Emerald |  ? |
| | Speed Ruby-I | Increases a Commander's speed by 9. | 1 | Ruby | 1 |
| | Speed Ruby-II | Increases a Commander's speed by 18. | 2 | Ruby | 4 |
| | Speed Ruby-III | Increases a Commander's speed by 27. | 3 | Ruby | 16 |
| | Speed Ruby-IV | Increases a Commander's speed by 36. | 4 | Ruby | 64 |
| | Speed Ruby-V | Increases a Commander's speed by 45. | 5 | Ruby | 256 |
| | Speed Sapphire-I | Increases a Commander's speed by 5. | 1 | Sapphire | 1 |
| | Speed Sapphire-II | Increases a Commander's speed by 10. | 2 | Sapphire | 4 |
| | Speed Sapphire-III | Increases a Commander's speed by 15. | 3 | Sapphire | 16 |
| | Speed Sapphire-IV | Increases a Commander's speed by 20. | 4 | Sapphire | 64 |
| | Speed Sapphire-V | Increases a Commander's speed by 25. | 5 | Sapphire | 256 |
| | Speed Emerald-I | Increases a Commander's speed by 13. | 1 | Emerald | 1 |
| | Speed Emerald-II | Increases a Commander's speed by 26. | 2 | Emerald | 4 |
| | Speed Emerald-III | Increases a Commander's speed by 39. | 3 | Emerald | 16 |
| | Speed Emerald-IV | Increases a Commander's speed by 52. | 4 | Emerald | 64 |
| | Speed Emerald-V | Increases a Commander's speed by 65. | 5 | Emerald | 256 |
| | Power Ruby-I | Increases a ship's attack power by 0.7%. | 1 | Ruby | 1 |
| | Power Ruby-II | Increases a ship's attack power by 1.3%. | 2 | Ruby | 4 |
| | Power Ruby-III | Increases a ship's attack power by 2%. | 3 | Ruby | 16 |
| | Power Ruby-IV | Increases a ship's attack power by 2.7%. | 4 | Ruby | 64 |
| | Power Ruby-V | Increases a ship's attack power by 3.3%. | 5 | Ruby | 256 |
| | Power Sapphire-I | Increases a ship's attack power by 0.4%. | 1 | Sapphire | 1 |
| | Power Sapphire-II | Increases a ship's attack power by 0.9%. | 2 | Sapphire | 4 |
| | Power Sapphire-III | Increases a ship's attack power by 1.3%. | 3 | Sapphire | 16 |
| | Power Sapphire-IV | Increases a ship's attack power by 1.7%. | 4 | Sapphire | 64 |
| | Power Sapphire-V | Increases a ship's attack power by 2.2%. | 5 | Sapphire | 256 |
| | Power Emerald-I | Increases a ship's attack power by 0.2%. | 1 | Emerald | 1 |
| | Power Emerald-II | Increases a ship's attack power by 0.5%. | 2 | Emerald | 4 |
| | Power Emerald-III | Increases a ship's attack power by 0.7%. | 3 | Emerald | 16 |
| | Power Emerald-IV | Increases a ship's attack power by 0.9%. | 4 | Emerald | 64 |
| | Power Emerald-V | Increases a ship's attack power by 1.2%. | 5 | Emerald | 256 |
| | Structure Ruby-I | Increases a ship's structure by 0.2%. | 1 | Ruby | 1 |
| | Structure Ruby-II | Increases a ship's structure by 0.3%. | 2 | Ruby | 4 |
| | Structure Ruby-III | Increases a ship's structure by 0.5%. | 3 | Ruby | 16 |
| | Structure Ruby-IV | Increases a ship's structure by 0.6%. | 4 | Ruby | 64 |
| | Structure Ruby-V | Increases a ship's structure by 0.8%. | 5 | Ruby | 256 |
| | Structure Sapphire-I | Increases a ship's structure by 0.4%. | 1 | Sapphire | 1 |
| | Structure Sapphire-II | Increases a ship's structure by 0.8%. | 2 | Sapphire | 4 |
| | Structure Sapphire-III | Increases a ship's structure by 1.3%. | 3 | Sapphire | 16 |
| | Structure Sapphire-IV | Increases a ship's structure by 1.7%. | 4 | Sapphire | 64 |
| | Structure Sapphire-V | Increases a ship's structure by 2.2%. | 5 | Sapphire | 256 |
| | Structure Emerald-I | Increases a ship's structure by 0.3%. | 1 | Emerald | 1 |
| | Structure Emerald-II | Increases a ship's structure by 0.6%. | 2 | Emerald | 4 |
| | Structure Emerald-III | Increases a ship's structure by 0.9%. | 3 | Emerald | 16 |
| | Structure Emerald-IV | Increases a ship's structure by 1.3%. | 4 | Emerald | 64 |
| | Structure Emerald-V | Increases a ship's structure by 1.5%. | 5 | Emerald | 256 |
| | Shield Ruby-I | Increases a ship's shields by 0.2%. | 1 | Ruby | 1 |
| | Shield Ruby-II | Increases a ship's shields by 0.4%. | 2 | Ruby | 4 |
| | Shield Ruby-III | Increases a ship's shields by 0.6%. | 3 | Ruby | 16 |
| | Shield Ruby-IV | Increases a ship's shields by 0.8%. | 4 | Ruby | 64 |
| | Shield Ruby-V | Increases a ship's shields by 1%. | 5 | Ruby | 256 |
| | Shield Sapphire-I | Increases a ship's shields by 0.5%. | 1 | Sapphire | 1 |
| | Shield Sapphire-II | Increases a ship's shields by 1%. | 2 | Sapphire | 4 |
| | Shield Sapphire-III | Increases a ship's shields by 1.6%. | 3 | Sapphire | 16 |
| | Shield Sapphire-IV | Increases a ship's shields by 2.1%. | 4 | Sapphire | 64 |
| | Shield Sapphire-V | Increases a ship's shields by 2.7%. | 5 | Sapphire | 256 |
| | Shield Emerald-I | Increases a ship's shields by 0.4%. | 1 | Emerald | 1 |
| | Shield Emerald-II | Increases a ship's shields by 0.8%. | 2 | Emerald | 4 |
| | Shield Emerald-III | Increases a ship's shields by 1.2%. | 3 | Emerald | 16 |
| | Shield Emerald-IV | Increases a ship's shields by 1.6%. | 4 | Emerald | 64 |
| | Shield Emerald-V | Increases a ship's shields by 2%. | 5 | Emerald | 256 |
| | Malice Ruby-I | Increases critical strike rate by 2.2%. | 1 | Ruby | 1 |
| | Malice Ruby-II | Increases critical strike rate by 4.5%. | 2 | Ruby | 4 |
| | Malice Ruby-III | Increases critical strike rate by 6.7%. | 3 | Ruby | 16 |
| | Malice Ruby-IV | Increases critical strike rate by 9%. | 4 | Ruby | 64 |
| | Malice Ruby-V | Increases critical strike rate by 11.1%. | 5 | Ruby | 256 |
| | Malice Sapphire-I | Increases critical strike rate by 1.4%. | 1 | Sapphire | 1 |
| | Malice Sapphire-II | Increases critical strike rate by 2.8%. | 2 | Sapphire | 4 |
| | Malice Sapphire-III | Increases critical strike rate by 4.3%. | 3 | Sapphire | 16 |
| | Malice Sapphire-IV | Increases critical strike rate by 5.7%. | 4 | Sapphire | 64 |
| | Malice Sapphire-V | Increases critical strike rate by 7.2%. | 5 | Sapphire | 256 |
| | Malice Emerald-I | Increases critical strike rate by 0.7%. | 1 | Emerald | 1 |
| | Malice Emerald-II | Increases critical strike rate by 1.5%. | 2 | Emerald | 4 |
| | Malice Emerald-III | Increases critical strike rate by 2.3%. | 3 | Emerald | 16 |
| | Malice Emerald-IV | Increases critical strike rate by 3%. | 4 | Emerald | 64 |
| | Malice Emerald-V | Increases critical strike rate by 3.8%. | 5 | Emerald | 256 |
| | Ferocity Ruby-I | Increases a ship's critical hit rate by 0.4%. | 1 | Ruby | 1 |
| | Ferocity Ruby-II | Increases a ship's critical hit rate by 0.9%. | 2 | Ruby | 4 |
| | Ferocity Ruby-III | Increases a ship's critical hit rate by 1.3%. | 3 | Ruby | 16 |
| | Ferocity Ruby-IV | Increases a ship's critical hit rate by 1.7%. | 4 | Ruby | 64 |
| | Ferocity Ruby-V | Increases a ship's critical hit rate by 2.2%. | 5 | Ruby | 256 |
| | Ferocity Sapphire-I | Increases a ship's critical hit rate by 0.2%. | 1 | Sapphire | 1 |
| | Ferocity Sapphire-II | Increases a ship's critical hit rate by 0.5%. | 2 | Sapphire | 4 |
| | Ferocity Sapphire-III | Increases a ship's critical hit rate by 0.7%. | 3 | Sapphire | 16 |
| | Ferocity Sapphire-IV | Increases a ship's critical hit rate by 0.9%. | 4 | Sapphire | 64 |
| | Ferocity Sapphire-V | Increases a ship's critical hit rate by 1.2%. | 5 | Sapphire | 256 |
| | Ferocity Emerald-I | Increases a ship's critical hit rate by 0.7%. | 1 | Emerald | 1 |
| | Ferocity Emerald-II | Increases a ship's critical hit rate by 1.3%. | 2 | Emerald | 4 |
| | Ferocity Emerald-III | Increases a ship's critical hit rate by 2%. | 3 | Emerald | 16 |
| | Ferocity Emerald-IV | Increases a ship's critical hit rate by 2.7%. | 4 | Emerald | 64 |
| | Ferocity Emerald-V | Increases a ship's critical hit rate by 3.3%. | 5 | Emerald | 256 |
| | Chrono Ruby-I | Increases a ship's chance to double-hit by 0.6%. | 1 | Ruby | 1 |
| | Chrono Ruby-II | Increases a ship's chance to double-hit by 1.3%. | 2 | Ruby | 4 |
| | Chrono Ruby-III | Increases a ship's chance to double-hit by 1.9%. | 3 | Ruby | 16 |
| | Chrono Ruby-IV | Increases a ship's chance to double-hit by 2.5%. | 4 | Ruby | 64 |
| | Chrono Ruby-V | Increases a ship's chance to double-hit by 3.2%. | 5 | Ruby | 256 |
| | Chrono Sapphire-I | Increases a ship's chance to double-hit by 0.3%. | 1 | Sapphire | 1 |
| | Chrono Sapphire-II | Increases a ship's chance to double-hit by 0.6%. | 2 | Sapphire | 4 |
| | Chrono Sapphire-III | Increases a ship's chance to double-hit by 0.9%. | 3 | Sapphire | 16 |
| | Chrono Sapphire-IV | Increases a ship's chance to double-hit by 1.2%. | 4 | Sapphire | 64 |
| | Chrono Sapphire-V | Increases a ship's chance to double-hit by 1.5%. | 5 | Sapphire | 256 |
| | Chrono Emerald-I | Increases a ship's chance to double-hit by 0.9%. | 1 | Emerald | 1 |
| | Chrono Emerald-II | Increases a ship's chance to double-hit by 1.7%. | 2 | Emerald | 4 |
| | Chrono Emerald-III | Increases a ship's chance to double-hit by 2.6%. | 3 | Emerald | 16 |
| | Chrono Emerald-IV | Increases a ship's chance to double-hit by 3.4%. | 4 | Emerald | 64 |
| | Chrono Emerald-V | Increases a ship's chance to double-hit by 4.3%. | 5 | Emerald | 256 |
| | Regen Ruby-I | Increases a ship's shield regeneration rate by 0.3%. | 1 | Ruby | 1 |
| | Regen Ruby-II | Increases a ship's shield regeneration rate by 0.5%. | 2 | Ruby | 4 |
| | Regen Ruby-III | Increases a ship's shield regeneration rate by 0.8%. | 3 | Ruby | 16 |
| | Regen Ruby-IV | Increases a ship's shield regeneration rate by 1%. | 4 | Ruby | 64 |
| | Regen Ruby-V | Increases a ship's shield regeneration rate by 1.3%. | 5 | Ruby | 256 |
| | Regen Sapphire-I | Increases a ship's shield regeneration rate by 0.8%. | 1 | Sapphire | 1 |
| | Regen Sapphire-II | Increases a ship's shield regeneration rate by 1.5%. | 2 | Sapphire | 4 |
| | Regen Sapphire-III | Increases a ship's shield regeneration rate by 2.3%. | 3 | Sapphire | 16 |
| | Regen Sapphire-IV | Increases a ship's shield regeneration rate by 3.1%. | 4 | Sapphire | 64 |
| | Regen Sapphire-V | Increases a ship's shield regeneration rate by 3.8%. | 5 | Sapphire | 256 |
| | Regen Emerald-I | Increases a ship's shield regeneration rate by 0.5%. | 1 | Emerald | 1 |
| | Regen Emerald-II | Increases a ship's shield regeneration rate by 1%. | 2 | Emerald | 4 |
| | Regen Emerald-III | Increases a ship's shield regeneration rate by 1.6%. | 3 | Emerald | 16 |
| | Regen Emerald-IV | Increases a ship's shield regeneration rate by 2.1%. | 4 | Emerald | 64 |
| | Regen Emerald-V | Increases a ship's shield regeneration rate by 2.7%. | 5 | Emerald | 256 |
| | EXP Diamond-I | Increases EXP earned by a commander by 10% | 1 | Diamond | 1 |
| | EXP Diamond-II | Increases EXP earned by a commander by 20% | 2 | Diamond | 4 |
| | EXP Diamond-III | Increases EXP earned by a commander by 30% | 3 | Diamond | 16 |
| | EXP Diamond-IV | Increases EXP earned by a commander by 40% | 4 | Diamond | 64 |
| | EXP Diamond-V | Increases EXP earned by a commander by 50% | 5 | Diamond | 256 |
| | Ballistic Diamond-I | Ballistic Weapon Expertise will be upgraded to Level D. Higher level Expertise won't be degraded. | 1 | Diamond | 1 |
| | Ballistic Diamond-II | Ballistic Weapon Expertise will be upgraded to Level C. Higher level Expertise won't be degraded. | 2 | Diamond | 4 |
| | Ballistic Diamond-III | Ballistic Weapon Expertise will be upgraded to Level B. Higher level Expertise won't be degraded. | 3 | Diamond | 16 |
| | Ballistic Diamond-IV | Ballistic Weapon Expertise will be upgraded to Level A. Higher level Expertise won't be degraded. | 4 | Diamond | 64 |
| | Ballistic Diamond-V | Ballistic Weapon Expertise will be upgraded to Level S. Higher level Expertise won't be degraded. | 5 | Diamond | 256 |
| | Directional Diamond-I | Directional Weapon Expertise will be upgraded to Level D. Higher level Expertise won't be degraded. | 1 | Diamond | 1 |
| | Directional Diamond-II | Directional Weapon Expertise will be upgraded to Level C. Higher level Expertise won't be degraded. | 2 | Diamond | 4 |
| | Directional Diamond-III | Directional Weapon Expertise will be upgraded to Level B. Higher level Expertise won't be degraded. | 3 | Diamond | 16 |
| | Directional Diamond-IV | Directional Weapon Expertise will be upgraded to Level A. Higher level Expertise won't be degraded. | 4 | Diamond | 64 |
| | Directional Diamond-V | Directional Weapon Expertise will be upgraded to Level S. Higher level Expertise won't be degraded. | 5 | Diamond | 256 |
| | Missile Diamond-I | Missile Expertise will be upgraded to Level D. Higher level Expertise won't be degraded. | 1 | Diamond | 1 |
| | Missile Diamond-II | Missile Expertise will be upgraded to Level C. Higher level Expertise won't be degraded. | 2 | Diamond | 4 |
| | Missile Diamond-III | Missile Expertise will be upgraded to Level B. Higher level Expertise won't be degraded. | 3 | Diamond | 16 |
| | Missile Diamond-IV | Missile Expertise will be upgraded to Level A. Higher level Expertise won't be degraded. | 4 | Diamond | 64 |
| | Missile Diamond-V | Missile Expertise will be upgraded to Level S. Higher level Expertise won't be degraded. | 5 | Diamond | 256 |
| | Tactical Diamond-I | Ship-based Expertise will be upgraded to Level D. Higher level Expertise won't be degraded. | 1 | Diamond | 1 |
| | Tactical Diamond-II | Ship-based Expertise will be upgraded to Level C. Higher level Expertise won't be degraded. | 2 | Diamond | 4 |
| | Tactical Diamond-III | Ship-based Expertise will be upgraded to Level B. Higher level Expertise won't be degraded. | 3 | Diamond | 16 |
| | Tactical Diamond-IV | Ship-based Expertise will be upgraded to Level A. Higher level Expertise won't be degraded. | 4 | Diamond | 64 |
| | Tactical Diamond-V | Ship-based Expertise will be upgraded to Level S. Higher level Expertise won't be degraded. | 5 | Diamond | 256 |
| | Global Assault Diamond-I | Planet-attack Weapon Expertise will be upgraded to Level D. Higher level Expertise won't be degraded. | 1 | Diamond | 1 |
| | Global Assault Diamond-II | Planet-attack Weapon Expertise will be upgraded to Level C. Higher level Expertise won't be degraded. | 2 | Diamond | 4 |
| | Global Assault Diamond-III | Planet-attack Weapon Expertise will be upgraded to Level B. Higher level Expertise won't be degraded. | 3 | Diamond | 16 |
| | Global Assault Diamond-IV | Planet-attack Weapon Expertise will be upgraded to Level A. Higher level Expertise won't be degraded. | 4 | Diamond | 64 |
| | Global Assault Diamond-V | Planet-attack Weapon Expertise will be upgraded to Level S. Higher level Expertise won't be degraded. | 5 | Diamond | 256 |
| | Frigate Diamond-I | Frigate Expertise will be upgraded to Level D. Higher level Expertise won't be degraded. | 1 | Diamond | 1 |
| | Frigate Diamond-II | Frigate Expertise will be upgraded to Level C. Higher level Expertise won't be degraded. | 2 | Diamond | 4 |
| | Frigate Diamond-III | Frigate Expertise will be upgraded to Level B. Higher level Expertise won't be degraded. | 3 | Diamond | 16 |
| | Frigate Diamond-IV | Frigate Expertise will be upgraded to Level A. Higher level Expertise won't be degraded. | 4 | Diamond | 64 |
| | Frigate Diamond-V | Frigate Expertise will be upgraded to Level S. Higher level Expertise won't be degraded. | 5 | Diamond | 256 |
| | Cruiser Diamond-I | Cruiser Expertise will be upgraded to Level D. Higher level Expertise won't be degraded. | 1 | Diamond | 1 |
| | Cruiser Diamond-II | Cruiser Expertise will be upgraded to Level C. Higher level Expertise won't be degraded. | 2 | Diamond | 4 |
| | Cruiser Diamond-III | Cruiser Expertise will be upgraded to Level B. Higher level Expertise won't be degraded. | 3 | Diamond | 16 |
| | Cruiser Diamond-IV | Cruiser Expertise will be upgraded to Level A. Higher level Expertise won't be degraded. | 4 | Diamond | 64 |
| | Cruiser Diamond-V | Cruiser Expertise will be upgraded to Level S. Higher level Expertise won't be degraded. | 5 | Diamond | 256 |
| | Battleship Diamond-I | Battleship Expertise will be upgraded to Level D. Higher level Expertise won't be degraded. | 1 | Diamond | 1 |
| | Battleship Diamond-II | Battleship Expertise will be upgraded to Level C. Higher level Expertise won't be degraded. | 2 | Diamond | 4 |
| | Battleship Diamond-III | Battleship Expertise will be upgraded to Level B. Higher level Expertise won't be degraded. | 3 | Diamond | 16 |
| | Battleship Diamond-IV | Battleship Expertise will be upgraded to Level A. Higher level Expertise won't be degraded. | 4 | Diamond | 64 |
| | Battleship Diamond-V | Battleship Expertise will be upgraded to Level S. Higher level Expertise won't be degraded. | 5 | Diamond | 256 |
---
Related Events
Edit
---