Eternal Terrors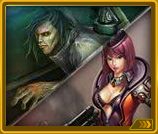 Skills:

Battle Preparations
| | |
| --- | --- |
| | 600 |
This commander is a combination of Reggie and Hellen.
How to Obtain
[
]
This commander can be created with the Eternal Terrors Scroll. This Scroll can be obtained in the Aquarius.A03 Constellation instance.

Skill
[
]
Battle Preparations (Paralyze + Rapid Reload)

When attacking, there is a chance to instantly reload all weapons and prevent the enemy commander's ability for the next round.
Affected by the Accuracy and Electron attributes.
Commander's Chance to Trigger Ability
[
]
Note: The initial chance is the chance to trigger their ability when the total number of the related stats is 0. As the related stats increase, the chance to trigger commander ability will increase too. Click on the link to see a list and explanation of all Commander's Chance to Trigger Abilities.
The table shows the chance based on 500, 1000, 1500 and 1800 related stats.
Name
Type
Initial Chance
Accuracy and Electron Stats
500
1000
1200
1500
1800
Eternal Terrors
Divine
15.00%
20.30%
35.75%
44.71%
61.12%
81.05%
Player use
[
]
This commander and Desolate Prayers are considered the most effective non-Titan-based Divine tankbusters. As Reggie can block off the enemy from activating its ability, he is seen by players to the same level as Aileen as both are instrumental in defeating tanks, especially the non-Rayo-based tank Divines.