Death from Above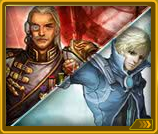 Skills:

Death's Clutches
| | |
| --- | --- |
| | 600 |
This commander is a combination of Robert and Rayo.
How to Obtain
Edit
Random chance to draw. This commander can also be created with the Death from Above Scroll. This scroll can be obtained from scroll chest 2 which is currently dropped at random from constellation instances Aquarius (any) and Sagitarius II.
Death's Clutches (Lethality + Superior Command)

If Death from Above successfully deals either a double or critical attack while the sum of their 4 base stats exceed that of the enemy's, all adjacent shipswill deal double attacks or critical strikes. Enemy abilities will be nullified as well.
Affected by the Accuracy, Dodge, Speed and Electron stats.
Commander's Chance to Trigger Ability
Edit
Note: The initial chance is the chance to trigger their ability when the total number of the related stats is 0. As the related stats increase, the chance to trigger commander ability will increase too. Click on the link to see a list and explanation of all Commander's Chance to Trigger Abilities.
The table shows the chance based on 500, 1000, 1500 and 1800 related stats.
Name
Type
Initial Chance
All 4 Stats
500
1000
1200
1500
1800
Death from Above
Divine
30%
46.7%
79.6%
96.2 %
104.9%
?? %
Player use
Edit
Before Titan was released, this Divine commander was considered the most feared of all commanders because of its offensive/defensive capabilities. A common stat growth combo for DFA is an Accuracy/Dodge combo.
After Titan's release, the DFA was still feared though saw less use due to the threat of Eschaton Adventists, its main rival. To counter the threat of Titan-based divines, it is recommended that best gems available (lvl 4 or lvl 5) are equipped.