Anna
Skills:

Pierce
| | |
| --- | --- |
| | 300 |
The elder of the Galaxy twins, she often fights alongside her sister, Linda. Her training in the art of piercing her targets enables her to deal additional damage. She loves her sister more than anything and would stop at nothing to ensure her safety. Best used with Ballistics to induce scatter and pierce
Pierce

Attacks have a chance to deal an extra 40% Piercing damage. Affected by the Accuracy attribute.
Commander's Chance to Trigger Ability
Edit
Note: The initial chance is the chance to trigger their ability when the total number of the related stats is 0. As the related stats increase, the chance to trigger commander ability will increase too. Click on the link to see a list and explanation of all Commander's Chance to Trigger Abilities.
The table shows the chance based on 500, 1000, 1500 and 1800 related stats.
Name
Type
Initial Chance
Accuracy
500
1000
1200
1500
1800
Anna
Super
15%
26%
56%
72.29%
102%
137.28%
Divine Commander
Edit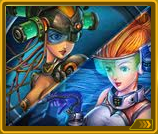 This Commander can be combined with other commanders to form a
Divine Commander
. The Combined Commander becomes a Divine Commander with special abilities. The following is a list of Divine Commanders that can be created with this Commander:
| | Name | Scroll | Card | Commander #1 | Commander #2 |
| --- | --- | --- | --- | --- | --- |
| | Deadly Duo | | | | |